[ad_1]
ISABEL + HELEN CREATES KINETIC SCULPTURES FOR BOTTEGA VENETA NUMBER 03
designboom spoke with the British design duo isabel + Hélène, before being rewarded with the golden madonna trophy 2021 from milan THE DESIGN AWARD (find out more here). the London-based design studio develops projects that highlight their shared love for simple analog and kinetic design process. since 2012, they have been widely recognized for their experimental and artificial installations and their animated sculptures. Supported by an ongoing exploration of movement, materials and mechanisms, their work has attracted clients to the fashion world, including hermés, dior, moncler, craig green and bottega veneta, as well as cultural institutions such as the Victoria and Albert Museum and Tate Modern.
for number 03– bottega veneta's digital journal (read more about previous issues here and here) – isabel + helen have created two series of animations that capture the fun and innovative nature of the brand. Entitled "issued," the quarterly journal features not only editorial shoots, but also videos that add to the storytelling of their products. by disregarding elements from the collection, the studio imagined "inflatable bags" and "kinetic dresses", two playful series of kinetic sculptures, presented in the form of short animations in the newspaper. read our interview with isabel + Hélène to learn more about the studio's history, its design philosophy, and the key moments that have defined its journey so far, below.
isabel + helen's 'air bags' series video
full header video + all 'air bags' and 'kinetic dresses' images courtesy of bottega veneta
INTERVIEWS DESIGNBOOM ISABEL + HELEN
designboom (DB): when did you start working together?
isabel gibson and helen chesner (IG + HC): we met while studying at Chelsea College of Art in London. Since our graduation in 2012, we have started collaborating on projects that showcased our shared love for analog design processes and discrete kinetics.
DB: How would you describe the studio's design philosophy?
IG + HC: our work is supported by a continuous exploration of movement, materials and mechanisms, we seek to simplify often complex ideas and ambitions, translating them into something more readable and accessible. we aim to recreate moments of simple gratification for the viewer that are both honest and unpretentious, but also deceptive in their apparent simplicity. process and play have always been an integral part of the way we work… experiencing how simple mechanics can be designed to bring materials to life and give them new meaning, by making things happen or creating experiences with it. that we have around us, almost scientific in their execution.
the series captures the essence of three bottega veneta bags
DB: how important is experimentation in your design process?
IG + HC: it's a very important part of our process. we have a workshop / studio in south east london where we spend our time making prototypes and testing our ideas. most of our ideas come from manufacturing, testing and tweaking until we are happy with the end result.
DB: What are the key projects that have defined the studio's journey so far?
IG + HC: our very first project we worked on together was for friday night V + A, creating interactive sculptures Рselfridges christmas window in 2016 was our first windows order Рour ongoing collaborations with craig green / moncler and herm̬s have played a big part in shaping our practice Рwe recently had a solo show at the Saatchi Gallery featuring a series of large-scale paintings and films to explain the process.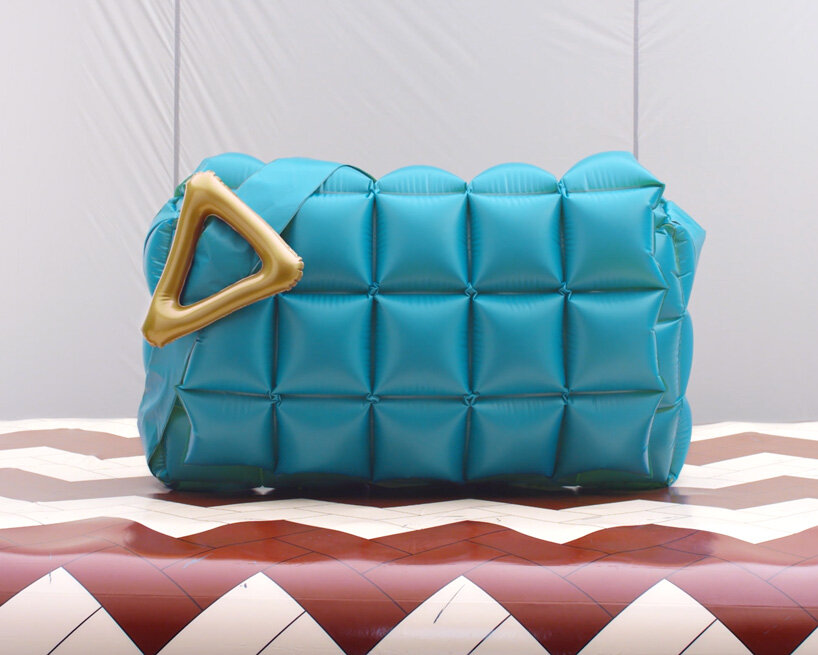 key details of each bag are highlighted in the carvings
DB: can you tell us a few words about 'in orbit', your first solo exhibition at the saatchi gallery?
IG + HC: for the exhibition, we created a series of tonal paintings, produced using a hand-made device made up of brushes arranged on a rotating canvas. we would spend hours setting up the process, but once the machine was on we could step back and wait for the paint to reveal itself. it was almost therapeutic and reassuring, a time when we could let go of all responsibility and the paintings would create themselves … setting up could take a few hours but the actual painting process, a few minutes, and completely off. of our control. a whole new painting was created each time we turned on the craft, each completely unique.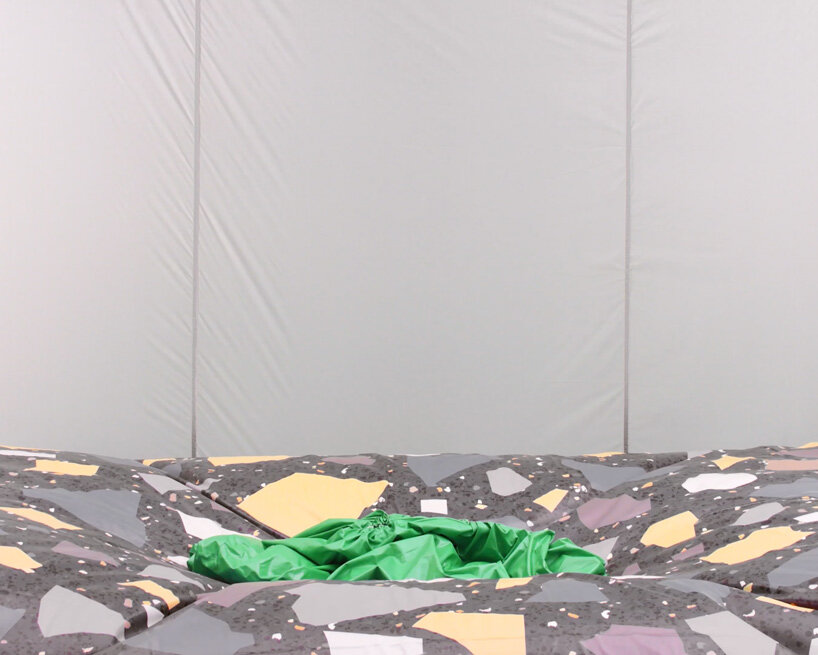 the bottega veneta clutch bag transformed into an inflatable sculpture
DB: Your work often uses analog design processes and simple kinetics. do you also create 3D works? Is there a difference in the process between the two?
IG + HC: yes, we also sometimes create static 3D installations, because movement is not always necessary to communicate our ideas. it just seems like a natural thing we've been drawn to, but we never started with it in mind to begin with.
[ad_2]