The division between the worlds of crafts, decoration and fine arts has been slowly blurring over the past ten years. A new exhibition at the Massachusetts Museum of Contemporary Art aims to break down what remains of these barriers.
"Ceramics in the Expanded Field", opening Saturday, October 16, brings together eight artists who integrate ceramics with other artistic practices, including photography, video, painting and performance.
"This group of artists are as different as they are similar," said Susan Cross, Senior Curator of Visual Arts at Mass MoCA, in a recent interview during the installation of the exhibit. "They all work with clay and fit in with other mediums; looking at the history of materials."
While each artist incorporates clay into their practice in a different way, she said, each also emphasizes how clay is embedded in our daily lives, cultures and histories, including colonialism and peoples. patriarchal systems, capitalism and globalization.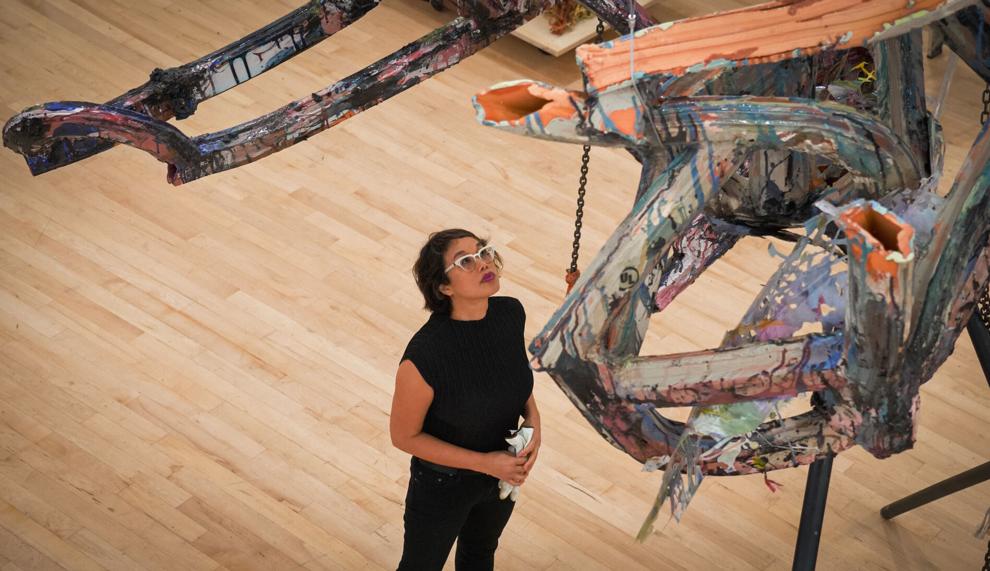 "Ceramics has long been underestimated because of its association with the domestic sphere, with women's work and indigenous cultures, with many marginalized and non-Western cultures," said Cross. "But ceramics are no longer locked into a singular category. These artists show a medium in conversations with other materials, other modes of practice."
For many artists, the exhibition allows them to work on a scale that is new in practice, but not in concept, she said.
In Linda Sormin's latest work, "Stream," a site-specific installation created for the exhibit, metal posts and scaffolding climb up through the two-story gallery space, soaring upward as they intertwine with large ceramic pieces carefully and carefully placed by the artist. Woven in metal and ceramic mesh, video monitors are filled with images and sounds of water, streams, dripping water, all in a loop.
"I'm really a fan of the wet variability of clay. I'm inspired by the way it goes through extreme heat and fire," said Sormin, a New York-based artist whose work has also been exhibited at Ferrin. Contemporary. "Colors [in 'Stream'] echo the natural landscapes of Indonesia, where my ancestors are located. My ancestors were Batak Toba and North Sumatra, whose villages are built in and around thick, deep foliage.
"I spent time there in 2014, and I was really immersed in the humidity and the rich colors. The Batak Toba architecture contains red, black and white and it is very sculpted and decorated. architecture embodies the understanding of people from the lower, middle and upper worlds. Snakes and dragons and mythological creatures and animals live in the lower world. I like to think of it as underground. People inhabit the middle world and the upper world is inhabited by deities and things that are not as descriptible. "
But "Stream" neither in architecture nor in an environment, she said.
"It's a consciousness flow approach to moving in spaces. When I was building this in the Netherlands, I was crawling on the ground. I spent a lot of time building on my knees and moving my body around. space. I don't usually get the chance to inhabit my sculptures this way. It was this slow process of moving my body around in space, under and around clay. I felt really immersed in it. this flow of consciousness. "
The installation, says Sormin, takes its name not only from this feeling, from a current of consciousness, but also from a current of water and a current of associations.
While creating several ceramic pieces for "Stream", during a residency in the Netherlands this summer, Sormin said she was aware of the underlying issues of colonialism, of colonization that affected her ancestors. .
"There was a kind of touching point of tension, knowing that the Dutch were the people who colonized Indonesia. So spending time in residences, in Indonesia and the Netherlands, was a way for me to travel back to the past of my family history and gather information, not necessarily to make sense of experiences, but at least to confront some of the ugly stories, of the impact of colonization on my family, "she said.
"I think the generational trauma was embodied in the fracturing, in the breaking of a lot of pieces [in this work.] But also, I wanted to express the dynamism and resilience, the will to live and the will to flourish that humans have in the face of violence and loss; that my family was still working to survive, to create, to continue to create. That's where a lot of the color comes in – I wanted that energy, that sense of buoyancy and beauty; this tension and this fracture. I wanted to be honest about this in this job. "
Chips, fractures and fragments appear in almost all of the work in the exhibition, Cross said.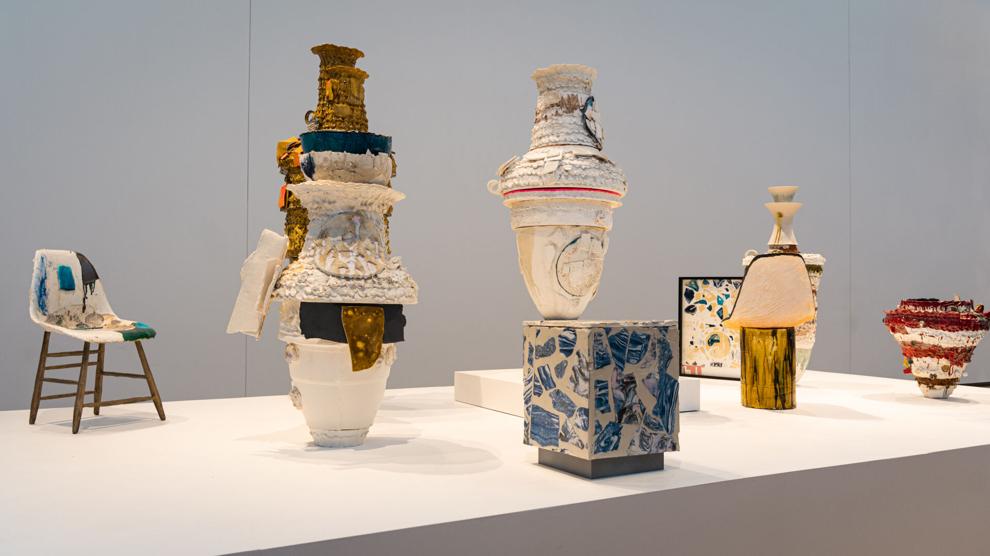 For Nicole Cherubini, an artist who lives and works in Hudson, NY, shards, fragments and fractures are an essential part of the conversations underlying her work.
"I really thought about the idea of ​​the object, the idea of ​​ownership and when something breaks. I thought about the trajectory of an object and how we always think that if something thing breaks, we have to put it back, "Cherubini said in a recent interview with Mass MoCA. "But why can't it become two objects?" Or be put together in a different way to change the conversation; the history of the object? Or to create a new space in which to exist? There is the idea that a fragment no longer has a subject. "
His clay vases are both robust and delicate, straddling the space between decorative and functional. They are, of course, non-functional, on a large scale, full of unexpected cracks and holes, covered with shards and fragments of other works.
"I went to the first cycle for clay, for ceramics, to [Rhode Island School of Design]. I always liked the material, but I was always confused as to how to use it and the idea that it could be anything but had such a specific story. . So I started to approach the history of the material and the ideas of function, work and purpose. It's kind of the whole underlying conversation, "she said, noting that this conversation carries over into her other works of photography and performance art.
And there is also the ubiquitous conversation about whether or not clay, ceramics belong to the collections of handicrafts and decorative works, or should be considered part of the fine art.
"When I started using clay and started showing it 15 years ago – and that's what's so amazing about this show – is that there was no really no clay that was being shown So, I really thought about putting this material in a one act position, in a sense that nobody wanted to see it, that there wasn't really a place.
"This work," she said, pointing to her own pieces, "wasn't really for the craft world. No one in the fine art world wanted to see it because of these deep conversations. about art shows. It was kind of like my punk rock act of trying to get it out, kind of a political act. It was very, deeply based on a feminist conversation, which it is. always. "